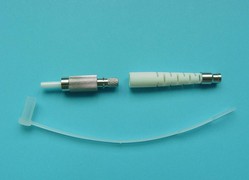 Descripton of DIN connector

This unique DIN fiber optic connector gives high performance in a small, DIN 47256 compatible design suitable for a wide range of applications. The DIN connectors are made of precision screw machined nickel plated brass for consistent performance and durability.

Features of DIN connector

Connector compatible with DIN 47256

Low insertion loss and high return loss

Boot of Telcordia type – side-pulling proof

High quality ceramic ferrule

LSA(PC) and LSA-HRL(8° APC) available

Compact size

DIN connecotor availability

The DIN connector is available with a variety of boots. The DIN fiber connector comply with CECC 86 135-801 (PC version) & CECC 86 135-802 (APC version) standards.

We supply single mode DIN connector and multimode DIN connector.
Application of DIN connector
These DIN fiber connectors are widely used in telecommunications, CATV, LAN, MAN, WAN, test & measurement, industry, medical and sensors.
DIN connector speicifcation
Connector Type

Insertion Loss

Return Loss

Repeatability

Exchangeability

(500 matings)

DIN LSA Single mode

< 0.3dB

50 dB

< 0.2dB△

< 0.2dB△

DIN LSA-HRL Single mode

< 0.3dB

65dB (8° APC)

 

 

DIN LSA Multimode

< 0.3dB

–

< 0.2dB△

< 0.2dB△
DIN connector drawings