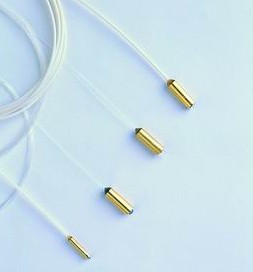 Description of fiber collimator
Fiber optic collimator is used to make divergent light into parallel beam or coupler the parallel beam into the fiber.
We supply single mode and multimode fiber collimator with different diameters.Typical fiber collimator wavelength is 1310nm and 1550nm.Lens diameter is 1.8mm or 1.0mm. fiber length is 1.0mm or 1.5mm.Fiber collimator could be with SC FC ST connectors etc.
Fiber collimator features:
– Low insertion loss
– Low back reflection
– High environmental stability
Fiber optic collimator applications include laser beam delivery systems, coupling the output of a fiber into a detector. Applications of pairs of collimators include beam expansion systems for lab applications, as well as fiber-to-fiber coupling in compact components.
Single mode Fiber optic collimator Specification
Parameter

Premium

A Grade

Wavelength (nm)

1310±30nm,1550±30nm
1310/1550±30nm,980/1550±30nm or custom wavelength

Insertion Loss (Typ.) (dB)*

0.17

0.20

Insertion Loss (Max.) (dB)*

0.20

0.25

Return Loss (Typ.)

65

60

Beam diameter (mm)

<0.5

Operating Temperature

-20℃~+75℃

Storage Temperature

-40℃~+ 85℃

Package Dimension

3.2×9 or 10mm gold plated SS tube
2.78×9mm glass tube or custom size

Fiber Type

250um bare fiber or 900um tight buffer
*At 10mm Working Distance

*Ordering Information:

Item

Description

Lens Type

SCL=C-Lens SGL=G-Lens

Wavelength

13=1310nm 14=1480nm 15=1550nm 35=1310/1550nm

Grade

P=Premium A=Grade A

Working Distance

05=5mmWD 06=6mm WD …… 70=70mmWD

Pigtail Style

B=250um Bare Fiber L=900um Jacket

Fiber Length

A=1.0m B=1.5m C=2.0m S=Customer Length

Package

A=3.2×9 or 10mm SS tube with gold plating
B=2.4×10mm SS tube
C=2.78×9mm Glass tube
D=1.3×8mm SS tube with gold plating
with 1mm G-lens or C-lens
E=1.8×8mm SS tube with gold plating
with 1mm G-lens or C-lens

Fiber Type

0=SMF-28 1=Corning Flexcore 2=50/125μm
3=62.5/125μm 4=100/140μm

Connector

0=None 1=FC/APC 2=FC/PC 3=SC/APC 4=SC/PC 5=ST 6=LC
Multimode fiber optic collimator specification
Grade

Premium

A Grade

Wavelength (nm)

1310+30, 1550+30 or 1310/1550+30, 980/1550+30 or custom wavelength

Insertion Loss (Typ.) (dB)

0.3

0.4

Insertion Loss (Max.) (dB)

0.4

0.5

Return Loss (Typ.) (dB)

65

60

Beam diameter (mm)

<0.5

Operating Temperature (℃)

-20 ~ +75

Storage Temperature (℃)

-40 ~ +85

Dimensions (mm)

2.40×10 or 3.2×10 gold plated SS tube or 2.78×10 glass tube or custom size

Fiber Type

250um bare fiber or 900um jacket
*Ordering Information:
Item

Description

AA ___FC

Multi fiber (3=3fiber or 4=4fiber, or S=special fiber ) Collimator

Wavelength

13=1310nm 15=1550nm 35=1310/1550nm 95=980/1550nm

Grade

P=Premium A=A Grade

Working Distance

01=1mm RWD 06=6mm RWD
…….. 70=70mm RWD

Pigtail Style

B=250um Bare Fiber L=900um Jacket

Fiber Length

A=1.0m B=1.5m C=2.0m S=Custom Length

Package

B=3.2x10mm SS tube
C=2.4x10mm SS tube
D=2.78x10mm glass tube

Fiber Type

0=SMF-28
1=Corning Flexcore
2=50/125μm
3=62.5/125μm
4=100/140μm

Connector

0=None 1=FC/APC 2=FC/PC 3=SC/APC 4=SC/PC 5=ST 6=LC
PM Collimator Specification
| | |
| --- | --- |
| Parameter | Specification |
| Wavelength (nm) | 1310+30, 1550+30 or custom wavelength |
| Working Distance (mm) | |
| Insertion Loss (Typ. @ 5mm) (dB) | |
| Insertion Loss (Max @5mm.) (dB) | |
| Extinction Ratio (Typ.) (dB) | |
| Extinction Rati0 (Min. ) (dB) | |
| Return Loss (Min.) | |
| Tensile Load (N) | 5 |
| Operating Temperature( ° C ) | -5 ~ +70 |
| Storage Temperature ( ° C ) | -40 ~ +85 |
| Dimensions | |
| Fiber Type | Panda PM or specify |