Our multifiber cable range from 12 to 144 fibers, it is design to be OFNP or OFNR fire resistant.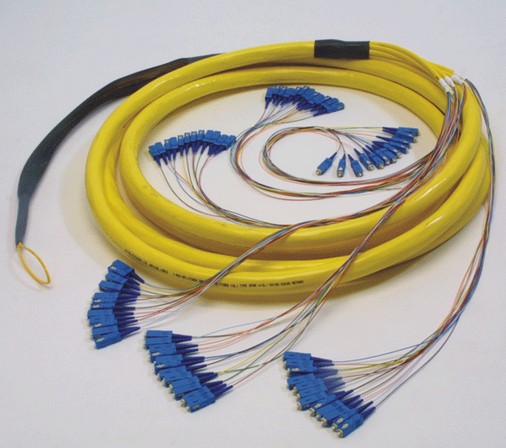 2 types of multifiber cable: stranded and ribbon.
With stranded cable, individual 900 um fibers make up the construction of the cable. the fibers are bundled into subunits of 6 or 12 fibers each.Each subnit is identified and the individual fibers within the subunits are color-coded.
Ribbon cable consists of multi-fibers arranged in ribbons.each ribbon contains 12 fibers and is identified as a subunit.
Features:
-FTTH optical cable
-Interconnect Cables
-Indoor point-to-point applications
-Direct connectorization
-Internal wiring in cable trays
-Single mode 9/125 or Multi-mode optical fiber 50/62. 5/125
Specification:
12 fiber cable
Overall Diameter(mm): 14. 5
Short-term Tension(N): 3500
Long-term Tension(N): 1000
Short-term Crush(N/10cm): 1000
Long-term Crush(N/10cm): 200
Bending Radius: 10D
Weight(kg/km): 138
18 fiber cable
Overall Diameter(mm): 14. 5
Short-term Tension(N): 4700
Long-term Tension(N): 1300
Short-term Crush(N/10cm): 1000
Long-term Crush(N/10cm): 200
Bending Radius: 10D
Weight(kg/km): 148
24 fiber cable
Overall Diameter(mm): 14. 5
Short-term Tension(N): 5600
Long-term Tension(N): 1500
Short-term Crush(N/10cm): 1000
Long-term Crush(N/10cm): 200
Bending Radius: 10D
Weight(kg/km): 156
Fibers(Nos. ): 30 fibers cable
Overall Diameter(mm): 15
Short-term Tension(N): 7500
Long-term Tension(N): 1750
Short-term Crush(N/10cm): 1000
Long-term Crush(N/10cm): 200
Bending Radius: 10D
Weight(kg/km): 191
Fibers(Nos. ): 36 fibers cable
Overall Diameter(mm): 17
Short-term Tension(N): 8900
Long-term Tension(N): 1950
Short-term Crush(N/10cm): 1000
Long-term Crush(N/10cm): 200
Bending Radius: 10D
Weight(kg/km): 235
Fibers(Nos. ): 48 fibers cable
Overall Diameter(mm): 20
Short-term Tension(N): 10700
Long-term Tension(N): 2400
Short-term Crush(N/10cm): 1000
Long-term Crush(N/10cm): 200
Bending Radius: 10D
Weight(kg/km): 305
Fibers(Nos. ): 60 fibers cable
Overall Diameter(mm): 22. 5
Short-term Tension(N): 12500
Long-term Tension(N): 3150
Short-term Crush(N/10cm): 1000
Long-term Crush(N/10cm): 200
Bending Radius: 10D
Weight(kg/km): 430
Fibers(Nos. ): 72 fibers cable
Overall Diameter(mm): 25
Short-term Tension(N): 13500
Long-term Tension(N): 3750
Short-term Crush(N/10cm): 1000
Long-term Crush(N/10cm): 200
Bending Radius: 10D
Weight(kg/km): 492
Fibers(Nos. ): 90 fibers cable
Overall Diameter(mm): 26. 6
Short-term Tension(N): 14900
Long-term Tension(N): 4950
Short-term Crush(N/10cm): 1000
Long-term Crush(N/10cm): 200
Bending Radius: 10D
Weight(kg/km): 527
Fibers(Nos. ): 120 fibers cable
Overall Diameter(mm): 30
Short-term Tension(N): 19500
Long-term Tension(N): 6450
Short-term Crush(N/10cm): 1000
Long-term Crush(N/10cm): 200
Bending Radius: 10D
Fibers(Nos. ): 144 fibers cable
Overall Diameter(mm): 30
Short-term Tension(N): 21000
Long-term Tension(N): 7350
Short-term Crush(N/10cm): 1000
Long-term Crush(N/10cm): 200
Bending Radius: 10D
Structure of the cable can be customized