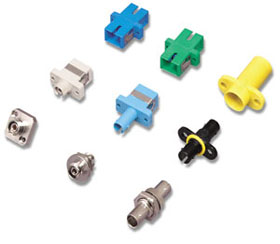 Fiber optic adapters
is also called mating sleeves,which are used to connect optical connectors of same type, such as FC, SC and ST. optical adapters are widely uses in light distribution frame(ODF), the optical fiber communications equipment, the measuring appliance and so on.

Features of optical adapter:
The optical adapter connects fiber transmission by its placket tube. We offer various shapes of high-performance adapters to ensure maximum connectivity between the fiber jumper. In order to fix a varity of board level, our company designed various sophisticated fixed flange.
Performance Specifications
Insertion loss(dB)
≤ 0.20
Duplication (dB)
≤ 0.10
Interchangeability (dB)
≤ 0.20
Sleeve material
Ceramics
Operating temperature (℃)
-25 ~ +70
-40 ~ +80
-25 ~ +70
Storage temperature (℃)
-40 ~ +85
Ordering Information
AD
Interface type
End-face type
Mode
Simplex or Duplex
 
FCSCST

LC

MU

MTRJ

DIN

MPO

E2000

U=UPCA=APC
Single modeMultimode
SimplexDuplex
We also offer hybrid adapters,which are used to connect optical connectors of different type, like SC to ST adapter etc.Click to view hybrid adapters .